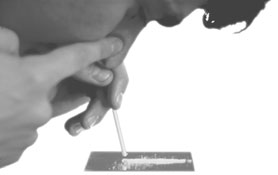 Collection
Drugs: the complete collection
All Effectiveness Bank analyses to date of documents related to use and problem use of illegal drugs starting with the analyses most recently added or updated, totalling today 815 documents.

Click blue titles to view full text in a new window


Use the selectors at the bottom to turn to the next page in the list of documents
---
STUDY 2005 PDF file 175Kb
Match motivational interviews to the client
Damaris J. Rohsenow
in the Drug and Alcohol Findings magazine
Motivational interviews are not universally beneficial or at worst neutral – sometimes they make things worse. In this US study they helped ambivalent patients make the most of their treatment but impeded the recovery of those already committed to change.
STUDY 2009 HTM file
Drug and alcohol services in Scotland
Audit Scotland.
Audit Scotland, 2009.
Scotland's national audit body assesses value for money from drug and alcohol services. It found systems poorly informed by the problems to be addressed and what works in addressing them, and in respect of drugs, unclear about what 'value' consists of.
STUDY 2005 PDF file 149Kb
Addressing medical and welfare needs improves treatment retention and outcomes
in the Drug and Alcohol Findings magazine
In this US treatment study, receiving services matched to need was associated with greater reductions in illegal drug use, supporting calls for services to address not just dependence but also medical, psychological, social, housing, and vocational needs.
IN PRACTICE 2005 PDF file 927Kb
Barriers cleared in Endell Street
in the Drug and Alcohol Findings magazine
How a team in London's West End set about systematically overcoming the barriers which prevented the residents of a homelessness hostel getting the treatment they needed. The key step was simple – asking the residents just what it was which stood in the way.
REVIEW 2008 HTM file
Recovery management and recovery-oriented systems of care: scientific rationale and promising practices
White W.L.
Northeast Addiction Technology Transfer Center, Great Lakes Addiction Technology Transfer Center, Philadelphia Department of Behavioral Health/Mental Retardation Services, 2008.
Sweeping, learned but practice-oriented tour-de-force from the US recovery advocate who sees the creation of a recovery-friendly environment as the best way to ensure a lasting resolution of substance use problems with or without abstinence.
STUDY 2009 HTM file
Relating counselor attributes to client engagement in England
Simpson D., Rowan-Szal G.A., Joe G.W. et al.
Journal of Substance Abuse Treatment: 2009, 36, p. 313–320.
The most wide-ranging investigation of the organisational health of British treatment services found clients engaged best when services fostered communication, participation and trust among staff, had a clear mission, but were open to new ideas and practices.
STUDY 2008 HTM file
Dedicated drug court pilots: a process report
Matrix Knowledge Group.
[UK] Ministry of Justice, 2008.
Following the Scottish example, England has piloted drug courts using specially trained magistrates to closely supervise treatment-based community sentences. This initial report found no major glitches but low throughput and uncertain cost-benefits.
REVIEW ABSTRACT 2009 HTM file
The primary prevention of hepatitis C among injecting drug users
Advisory Council on the Misuse of Drugs.
[UK] Home Office, February 2009.
To curb hepatitis C, UK government advisers call for substantial expansion of needle exchange provision so that a new set of equipment is available for every injection and for methadone programmes to provide access to injecting equipment and vice versa.
REVIEW 2008 HTM file
Reducing drug use, reducing reoffending: are programmes for problem drug-using offenders in the UK supported by the evidence?
UK Drug Policy Commission.
London: UK Drug Policy Commission, 2008.
Based on a review of the international literature, this UK report assessed the evidence for the effectiveness of Britain's response to drug using offenders. Recommendations include maximising community treatment options as an alternative to imprisonment.
STUDY 2008 HTM file
Coping skills training and contingency management treatments for marijuana dependence: exploring mechanisms of behavior change
Litt M.D., Kadden R.M., Kabela-Cormier E. et al.
Addiction: 2008, 103(4), p. 638–648.
Rare glimpse 'under the hood' of contingency management suggests that unless the patient sees themselves as having actively mastered their dependence and has developed anti-relapse strategies, effects of rewarding abstinence will be short-lived.
---
Select search results page

PREVIOUS
|
NEXT

1
2
3
4
5
6
7
8
9
10
11
12
13
14
15
16
17
18
19
20
21
22
23
24
25
26
27
28
29
30
31
32
33
34
35
36
37
38
39
40
41
42
43
44
45
46
47
48
49
50
51
52
53
54
55
56
57
58
59
60
61
62
63
64
65
66
67
68
69
70
71
72
73
74
75
76
77
78
79
80
81
82